IMBA – UK 1 YEAR PROGRAMME
UNIVERSITY OF WOLVERHAMPTON PROGRAMMES

International Masters of Business Administration (IMBA) – UK 1 Year Programme
Podar Difference: Transform Your Future
Podar World College in association with the University of Wolverhampton, UK, brings to you Global MBA programme (1 year Full Time) for your International Exposure.
Podar Group continues its journey in education since 1927 with a prime purpose of building young minds to spearhead a dynamic future globally. We continue our commitment to quality education to provide a post graduate programme – International MBA which is in sync with the development of the needs of the individual child in an era of globalization. Our journey from KG to PG is thus an endeavour to scale new heights.
The International MBA brings to your career new thinking and skills that you learn to further broaden your horizons, providing you skills to further cultivate strategic management perspectives, ability to research critical areas of business management and develop your analysis of wider organisational functioning in an international environment.
A team of excellent faculty is the core of any good business school, and at Podar World College (PWC) we take pride in our unwavering emphasis on the quality of our education. By constantly enhancing our global learning network, PWC continuously strives to provide its students with a platform for sharing and generating a diverse range of business experiences, practices, and visions. The activities of the College are underpinned by research and close links with a wide range of organisations and businesses, ensuring the relevance of the curriculum as well as embedding employability, entrepreneurial spirit and work related philosophy into the programme.
I would like to warmly welcome you to join our International MBA Programme. I hope your experience with PWC will be a transformative one.
Warm Regards,
Dr. Mrs. Vandana Lulla,
Dean – Podar World College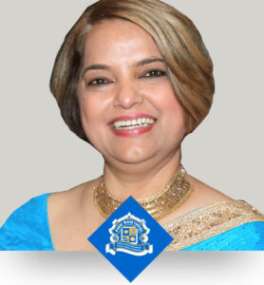 Dr. Mrs. Vandana Lulla,
Dean – Podar World College
What We Are
Podar World College is a teaching centre for kids who want to pursue further studies overseas and not in India. There are no credits transfers for any Indian course.
Our Goals
Podar Placement Cell will assist you to get Internship/Placement in India.
About Podar Group
Established in 1927, the Podar Group has a strong presence across India with 102 Podar owned schools and combined student strength of more than 1,20,000 students.
The success of Podar is largely due to its trained, qualified and committed teaching team and the extensive use of technology in teaching. About Podar World College, Mumbai.
Podar World College is a prestigious venture of Podar Education trust since 2007 which has made Quality Education its Core commitment. As a part of its philosophy the trust continuously upgrades its facilities and widens the spectrum of knowledge offering.
At Podar, our staff are at the cutting edge of their disciplines, and work hard to keep students up to date with the excitement and knowledge of all the latest developments. This is an international course from a research based University in UK.
The IMBA is founded on the belief that students meet the demands of a new kind of society, economies and the world. The course will provide opportunities to broaden both students' academic and personal development experiences and sharpen their CV as well as enrich the skills and attitudes that one needs to secure a job or to be an entrepreneur.
Podar World College plays the role of a true intermediary by actively spreading the message of superior curriculum and value based learning of the system to aspiring youngsters, through its understanding of local and the global market. It is one of the leading premier Education networks in the country.
Having over a decade of expertise in International Education, Podar World College now offers the International MBA from the University of Wolverhampton, UK.
About University Of Wolverhampton, UK
The University of Wolverhampton is a dynamic, innovative and business focused university in the Centre of England. Our students become part of a learning community that promotes knowledge, innovation and enterprise. Aiming to give our students the knowledge they need for the career they want, we maintain strong links with the business world and offer undergraduate and postgraduate courses which provide the experience and practical skills that employers value.
The University has an excellent global reputation, enjoying strong links with several overseas universities. With over 23,000 full and part-time students, including 2,500 international students, the University of Wolverhampton's attractive offering to students from around the world includes 96% graduate employability (Destination of Leavers of Higher Education survey 2016), teaching informed by world-leading research, strong business links, and state-of-the-art facilities. www.wlv.ac.uk
About International MBA At Podar World College – Unique Features
Preparing you for your career, focus on the skills that employers want and need.
Expert full time Faculty – Teachers are the foundation of Podar World College offering coaching, mentoring and support to students.
Applied analytical studies developed around entrepreneurship, strategic management in an international environment, international human resources and global marketing practices.
Practical and Research based International curriculum with a dissertation on the topic of your choice.
Guest Lectures by Industry Experts providing current trends and nurturing students to be equipped for work based and entrepreneurial ventures.
Assistance for Internship or Placement – The Placement cell forms a core part of the College.
Access to 24*7 online library
Access to Virtual learning network CANVAS to support teaching and learning through lecture material, journals, workshops, discussion forums.
Workplace Attributes – communication (written and oral), ability to apply professional/ technical knowledge at the workplace, working effectively with others, entrepreneurial skills, business acumen/ awareness.
Course Curriculum 1 Year Programme
Unit No.
Module
7AC009
Financial Decision Making
7BU027
Strategic Global Marketing
7BU032
Strategic Operations Management
7BU034
Contemporary Issues in Human Resources- an International Perspective
7MG001
Independent Business Analysis Project – Year long Dissertation Report on area of your choice
OR
7BU021
The Masters Professional Project – Year long Dissertation Report on area of your choice

*Units and structure is subject to change as per University of Wolverhampton Rules and Regulations.
What Will You Study In This Course?
Modules:
Students are introduced to core skills and the theories in business with an international perspective.
Financial Decision Making:
Managers in all sectors are required to take account of the financial impact of their decisions, and be able to understand and interpret accounting information. This module covers finance – the sources, uses and management of finance; and looks at the use of accounting and other information systems for managerial applications. This module seeks to enable participants to make well informed decisions based upon a sound knowledge of financial reports, systems and developments in the accounting and financial environment.
Strategic Global Marketing:
Good Global Marketing has been cited by many organisations and governments as key to a thriving economy and growth for individual companies and products. This module will introduce the key stages an organisation has to go through to develop and implement its approach to global marketing and how these factors can be influenced and supported by all aspects of the customer supply chain i.e. logistics, quality and the global marketing mix.
It will consider the contemporary approaches to international marketing and how these can be put in to practice. Topics covered will include strategy, research, business to business marketing, the use of social networking and e-marketing. Also there will be an element of consumer behaviour at Global marketing level which is an essential component in understanding differences and similarities between societies and how these impact on business.
Strategic Operations Management:
Innovation is vitally important for modern enterprises in the development of products and services. Advances in technologies, changing customer behaviours and globalisation are all providing opportunities for new business models. This module explores ways of managing innovation and entrepreneurship and developing and creating new ventures.
The module is concerned with the achievement of organisational objectives whilst making efficient use of its resources. This module will examine a wide range business operations management concepts in the production of goods or services, the module will also look critically at the strategic planning process by assessing both the internal and the external environment of an organisation, followed by selecting a number of strategic options, actions and choices to achieve organisational objectives.
The module will help develop skills in identifying, formulating and solving business problems through creative and entrepreneurial processes. The ability to recognise the need for and initiate change will be developed through the use of business cases.
Contemporary Issues in Human Resources- an International Perspective:
People and Human Resource Management is an international, contemporary and developing subject which draws on a wide range of disciplines. It will enable you to consider the management of people in an international context and the effects of globalisation on workers, organisations and related employment issues.
The topics are approached from a variety of management and critical perspectives and you will be encouraged to join in debates about national culture, employee and managerial behaviour, the employment cycle of international workers as well as new developments related to work.
We will also consider contemporary international employment issues related to human rights, diversity and corporate social responsibility. The module is designed to prepare you to work in an international setting as well as considering the employment of international workers in the domestic setting.
Independent Business Analysis Project – Year long Dissertation Report on area of your choice
Effective leaders, managers, citizens and employees need to be capable of basing their decision-making on information and knowledge derived from research. The aim of this module is to contribute to the research knowledge and skills appropriate for a taught master's programme and relevant for careers in professional or management roles.
The participant is required to produce a dissertation, at an advanced level, based on independent research. This should demonstrate an understanding of the philosophy and core principles of research (empirical or non-empirical) and show their competence in the design, execution and reporting of a research-based dissertation. In this way the participant's ability is developed to carry out subsequent research, independently and to commission, manage and evaluate the research activities of others.
Therefore, the knowledge and skills acquired in the module and of producing the project, will contribute to the student's effectiveness throughout her/his career
OR
The Masters Professional Project – Year long Dissertation Report on area of your choice
The Professional Project module is an independent study unit. Students will be able to draw together learning from their previous subjects, focusing on their key strengths, in the production of a business artefact, this could be, but is not limited to a Business plan, a policy, marketing plan, work-based issue or consultancy project.
Alongside the artefact students will develop a thesis outlining the rationalisation for their chosen artefact encompassing methodological approaches and a written critical reflection, which is designed to explain their rational for choice of artefact and reflect on the process of its production and dissemination
Who Will Award The Degree?
The University of Wolverhampton (UK) will award the degree upon successful completion of the 1 year full time program.
What Students Say About Podar World College?
"Courses at Podar gets our foot in the door of the industry which is extremely helpful."
"The lectures and workshops at Podar gave me the confidence to reflect on my own skills. I feel more confident for life after Podar."
"At Podar, I developed the skills of Problem Solving, Analytical skills, Communication skills and realise my potential and became an entrepreneurial-minded graduate."
FEES
| Sr. No. | Particulars | Amount |
| --- | --- | --- |
| 1 | Application Fee | Rs. 10,000/- |
| 2 | Tuition Fee First Instalment | Rs. 2,95,000/- with GST |
| 2 | Tuition Fee Second Instalment | Rs. 2,95,000/- with GST |
| | Total Fee | Rs. 6,00,000/- |
Please Note:
Fee to be paid in 2 equal instalments. Cheque in favour of "Podar World College"
Fee once paid is not refundable.
Fee is subject to change.
Entry Requirements
Eligibility:
1st /2nd class Graduate degree from UK University / or equivalent.
IELTS – Overall score 6 (each category 5.5) OR equivalent.
Admissions maybe considered by University of Wolverhampton on Case to Case basis.
Disclaimer: There is no credit transfer of this course, in Indian Universities. (If a student discontinues in between or on completion of the programme there is no credit transfer of this course, in Indian Universities)
"Progression to International Universities will be subject to applied University's specified criteria".
*Subject to Approval
Podar World College
Address:
Mahindra Classic, Next to Starbucks Coffee,
Opposite J.W. Marriot, Juhu Tara Road,
Mumbai – 400048.
Contact:
Ms. Aarti Kumar, Sr. Marketing Co-ordinator
022-26142908 / 99200 53230 / 99309 53239
Email Address
aarti@podarworldcollege.org